Cuomo: State's ventilator supply running low
ALBANY — The state will run out of stockpiled ventilators in six days if several hundred new COVID-19 patients continue to enter intensive care units each day, Gov. Andrew Cuomo said Thursday.
The state's virus-related deaths had climbed to 2,373 by Thursday afternoon, up from 1,941 Wednesday. At 92,381 positive cases, just over 14.5% of positively infected New Yorkers are hospitalized, or 13,383 people, with 3,396 patients in the intensive care unit. To date, 7,434 infected patients have been discharged.
State officials study various expert models to determine a moderate projection for the number of hospital beds, ventilators, gloves, masks and other personal protective equipment the state will need. Cuomo has said the state could need as many as 40,000 total ventilators to combat the virus at its apex, or height, of the curve.
The peak could hit New York between the next seven and 30 days, depending on the model, Cuomo said Thursday during a briefing. The governor pulled up a graphic that showed the public health crisis starting to taper in New York in August.
"Some models have it flattening out earlier...but flattening for a period of time," he said. "...Flattening and continuing through the summer."
The federal government sent New York 4,400 ventilators and the state has purchased 17,000 ventilators from China at about $25,000 each, costing a minimum of $425 million. Cuomo anticipates the delivery of 2,500 machines to the state within the next two weeks, he said.
The state sent 400 ventilators to NYC Health + Hospitals and 200 to Long Island and Westchester hospitals Wednesday night, the governor said. The 600 machines were the first from the state's stockpile to be deployed to combat COVID-19.
"It is starting to stress that health care system," Cuomo said of downstate hospitals. "We're planning on deploying assets on a day-to-day basis.
"Meaning, if the rate of usage... he rate coming into hospitals who need ventilators continues, in our stockpile, we have about six days," Cuomo said. "If a person comes in and needs a ventilator and we don't have a ventilator, that person dies."
All elective surgeries have ended in the state to free up ventilators. The state has developed several other measures in case of a ventilator shortage, including splitting ventilator tubes for two patients per machine, using anesthesia machine ventilators and converting BiPAP machines to ventilators for COVID-19 patients.
"It's too late to ask a country to make them," Cuomo said of the respirator appliances and the state's apex looming days away. "No one can make a ventilator for you in that period of time."
The state purchased 3,000 ventilators from Phillips in Pittsburgh, and 750 machines arrived Wednesday.
"I can say with confidence, we have researched every possibility, every idea," Cuomo said. "Every measure you can possibly take to find ventilators, this state has done."
The U.S. Army Corps of Engineers continues to construct temporary medical centers and hospitals at SUNY College at Old Westbury, SUNY Stony Brook and the Westchester Convention Center in White Plains, and 1,000-bed facilities in each of New York City's five boroughs and in downstate counties, including Suffolk, Westchester and Rockland counties. The state's first temporary medical center at the Jacob K. Javits Convention Center in Manhattan, which has 2,500 beds, opened Monday afternoon.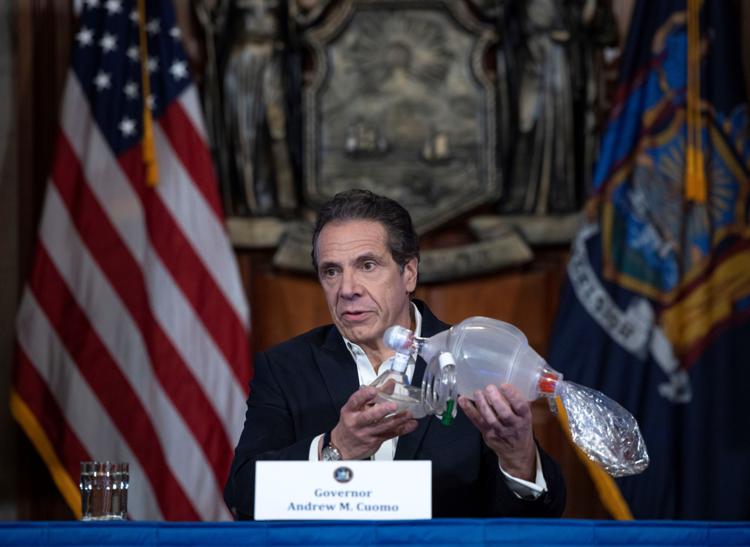 Construction started at the Brooklyn Cruise Terminal and will add 750 beds, and work began this week on a COVID-19-only temporary hospital within the Staten Island Psychiatric Center. Both facilities are expected to open next week, Cuomo said.
Columbia County had 51 positive cases of the virus as of Thursday afternoon. Two people have died and five remain hospitalized with two patients in intensive care. Sixty-one people are under mandatory quarantine and 25 under precautionary quarantine. Ten residents have suspected cases, but have not been tested.
Greene County has 25 cumulative positive cases of COVID-19 in Windham, Durham, Greenville, Hunter, Cairo, Catskill, Athens, Coxsackie and Halcott as of Thursday afternoon. Six people are hospitalized with the virus. Eight cases have been cleared and discharged, with 17 remaining active cases, according to a statement from Greene County Public Health. The county has 96 people under precautionary quarantine who are self-monitoring for possible exposure.
The state's most dense virus hot spots have remained downstate and in New York City. Positive cases of the virus have been detected in 57 counties in the state, including the city, with 51,809 cases in New York City, 11,567 cases in Westchester County, 10,587 in Nassau County, 8,746 cases in Suffolk County, 3,751 in Rockland County and 253 in Albany County.
To see the complete county breakdown of positive COVID-19 cases and deaths statewide, view the COVID-19 map and tracker.
More Information